The genus Tylecodon is restricted in range to South Africa and Namibia, mainly to areas of winter rainfall. They are, as a group, succulent caudiciforms or pachyforms, having fleshy trunks and limbs that store water. Their bark varies from peeling to tuberculated with leaf scars. Most have succulent leaves and are deciduous, though some with particularly fleshy leaves may keep their foliage year-round.
Their native habitat is typically hot most days, dry in summer, wetter, and cooler in winter. They live on rocky ground or in gravel substrate or growing from cracks in rocks or vertical cliff faces.
Flowers, borne on panicles, typically appear in summer when the plants are deciduous.
Many of the 45 or 46 known species are relatively small and decorative, making them much sought by hobbyists. Cultivation is easy, keeping in mind that they need more water (still not much) in winter, and a cooling period, and a to be kept drier in summer. Plants in the genus Tylecodon are toxic and require careful handling, including keeping them away from children, pets and livestock.
You might find it amusing that until 1978, Tylecodon was included in the genus Cotyledon, before being separated by Australian botanist Helmut Toelken based on flower and leaf morphology. His chosen name for the genus is a tongue-in-cheek anagram of Cotyledon.
Photographs in this section are by the author and may not be reproduced or used without his permission. Plant identifications are best estimates, based on literature available to the author. Opposing opinions are welcome, and if verifiable, I will make appropriate changes.
Tylecodon buchholzianus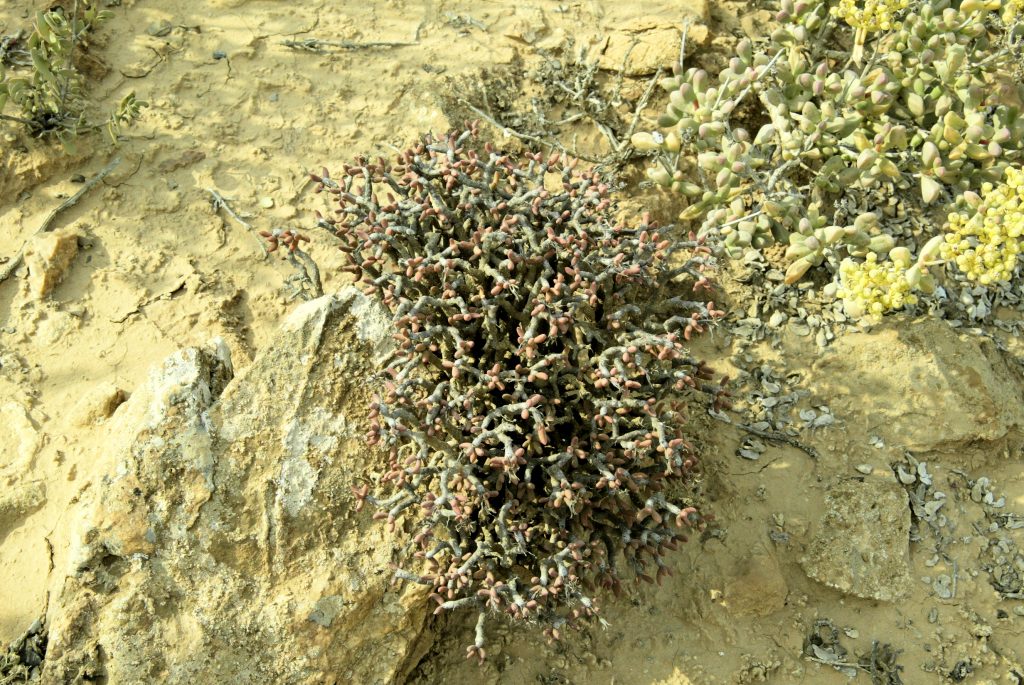 Above and below, Tylecodon buchholzianus on rocky soil just south of the Gariep (Orange) River, South Africa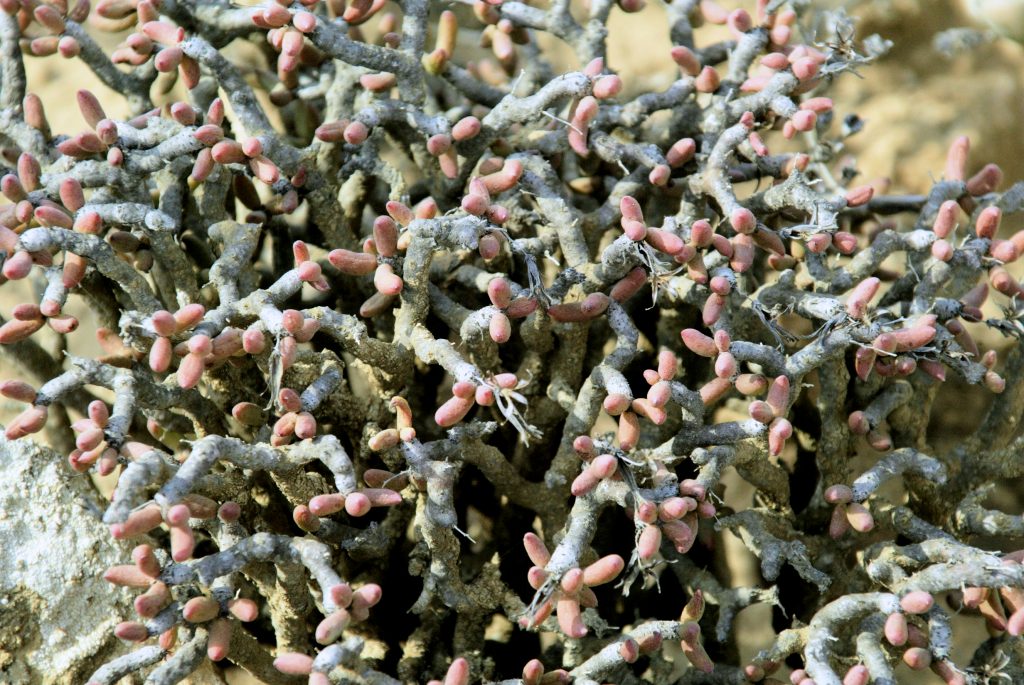 Tylecodon buchholzianus is a small shrub, under a foot tall, often spreading, with thick, succulent stems and leaves. Native to rocky outcrops in the Richtersveld coastal desert of South Africa and Namibia.
<<<<<*****>>>>>
Tylecodon cacalioides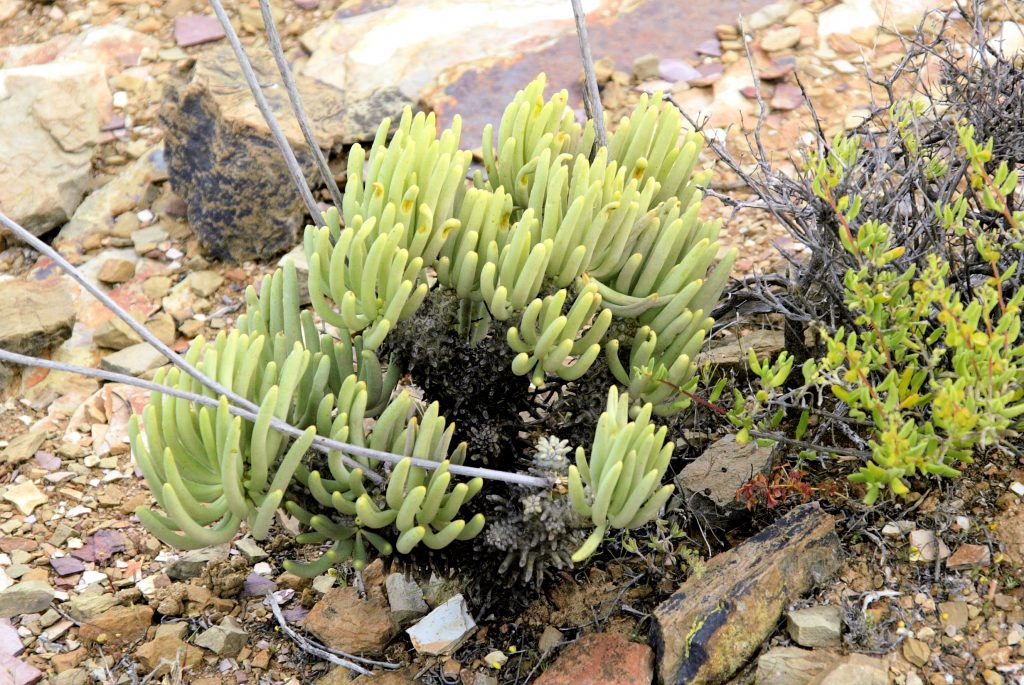 Above and below: Tylecodon cacalioides in the Succulent Karoo, Namaqualand, South Africa.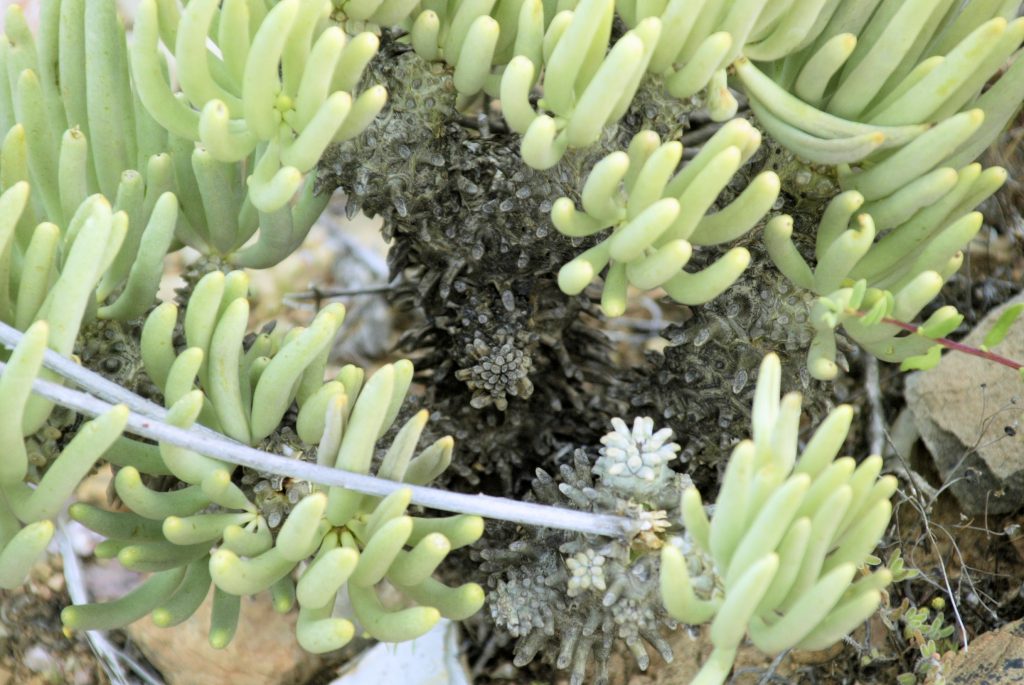 Tylecodon cacalioides a branching, succulent caudiciform with cylindrical leaves and a trunk bearing pronounced leaf scars, giving a tuberculated appearance. Reported to reach three feet tall, they are often much smaller, under a foot to 18-inches tall. Native to the Karoo and Little Karoo in South Africa.
<<<<<*****>>>>>
Tylecodon hallii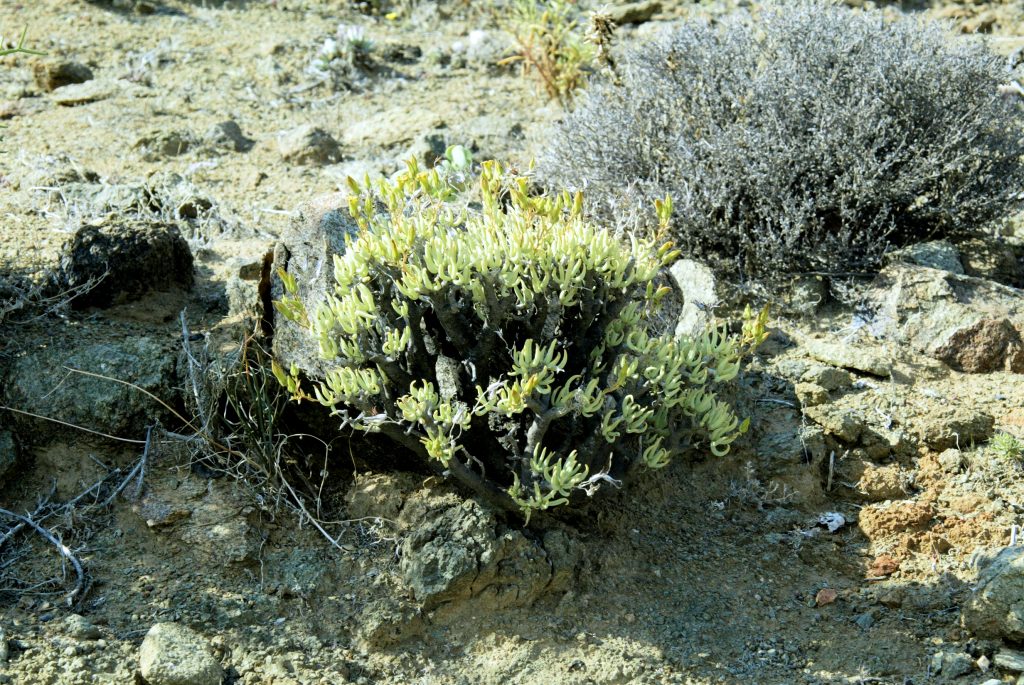 Tylecodon hallii in the Richtersveld, Northern Cape, South Africa.
Tylecodon hallii is small growing, under a foot tall, with many succulent branches and a caudiciform stem. Leaves are cylindric, recurved, glaucous light green. Stems are smooth. Found on rock outcrops of the Northern Cape, South Africa, and Namibia.
<<<<<*****>>>>>
Tylecodon paniculatus
Tylecodon paniculatus, called "botterboom" in Afrikaans, is the largest species in the genus. It can reach up to six feet tall, with a massively swollen trunk, but is usually found closer to three feet. It has smooth bark that contains chlorophyl and can thus photosynthesize when dormant during summer months. Its peeling bark is an attractive feature. Widespread in South Africa and Namibia, it lives in rocky habitats over most of its range but grows along the southern coast in sand. (Click on gallery photos above to see a larger version.)
<<<<<*****>>>>>
Tylecodon pearsonii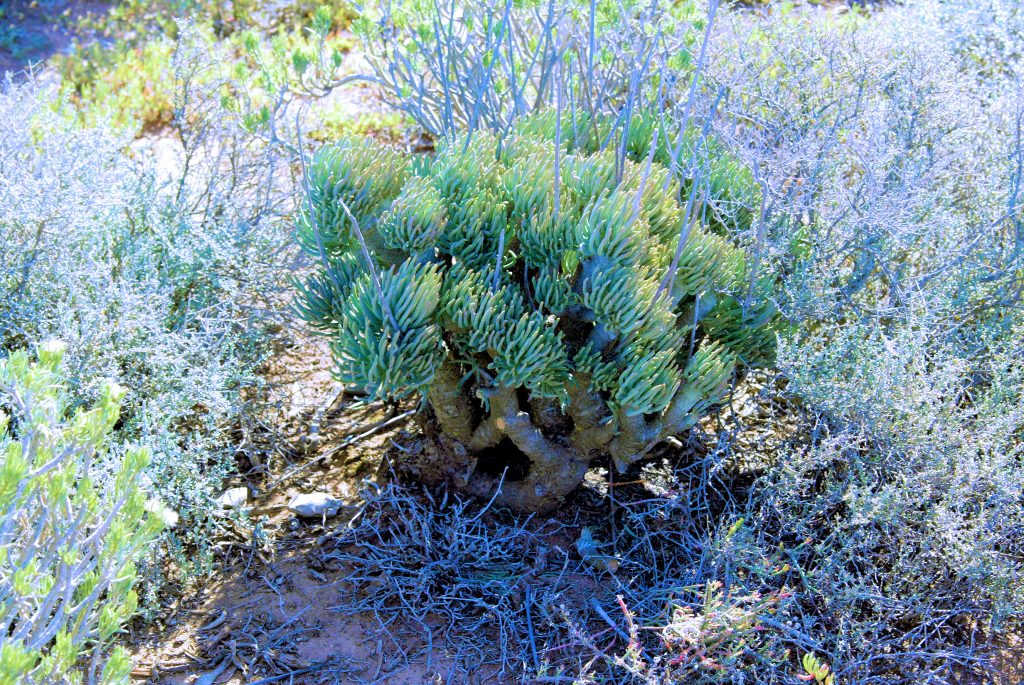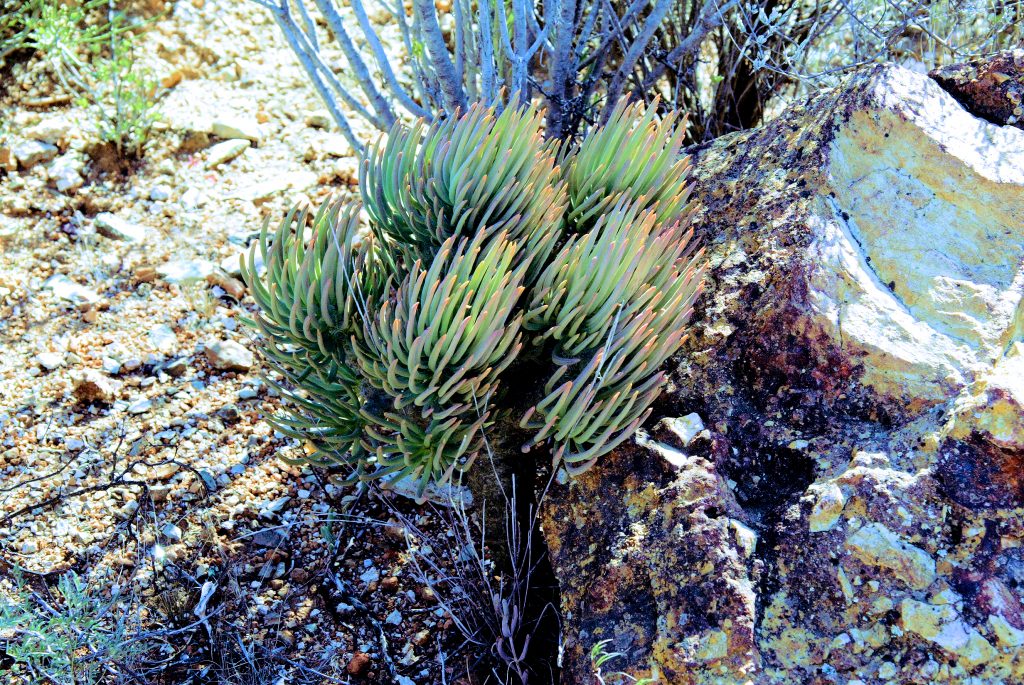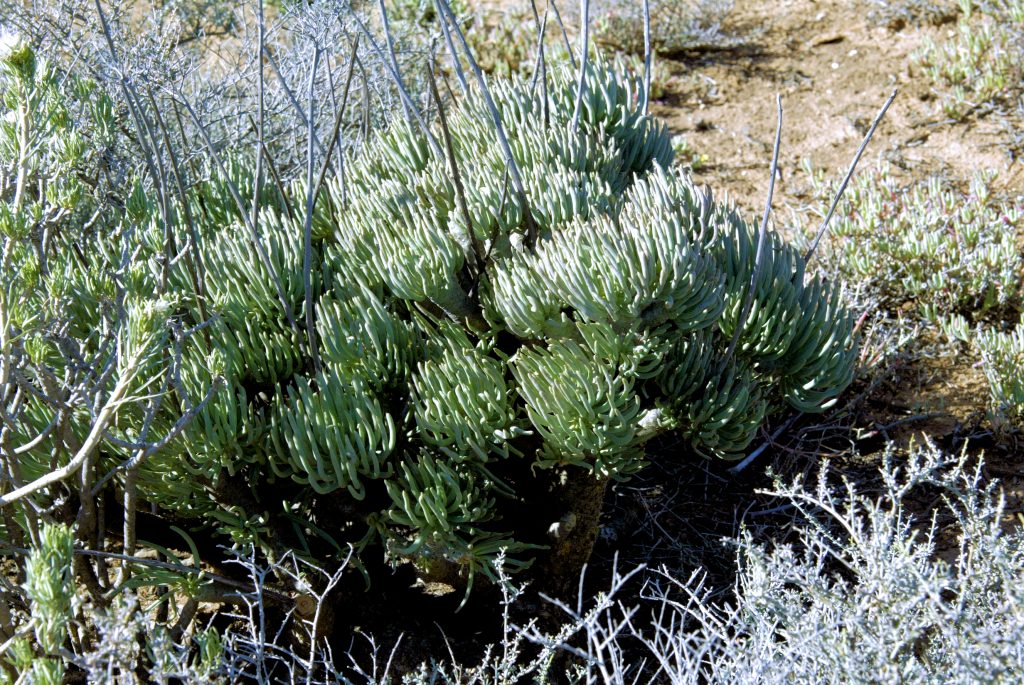 Above three photos are Tylecodon pearsonii, west of Oudtshoorn, Western Cape, South Africa.
<<<<<*****>>>>>
Tylecodon reticulatus
Tylecodon reticulatus, is another smaller species, growing up to 18 inches, but is typically smaller. A thick, succulent stem with peeling bark forms a substantial caudex with short branches. Leaves are cylindrical, under an inch long. The species commonly has a spiky crown made up of dried inflorescences, a good identifying characteristic. Native to Namibia, south to Namaqualand and the Little Karoo in South Africa.
<<<<<*****>>>>>
Tylecodon wallichii
Tylecodon wallichii is found along the South African West Coast, from Southern Namibia to the eastern parts of the Karoo in South Africa. Rocky desert is its preferred habitat, but it grows from rock crevices as well as it does on the ground. Growing to about 18 inches tall, and often referred to as a less-branched variety, but this does not seem to bear out in nature. The base forms a decent caudex with thick branches covered with leaf base scars that resemble tubercles. Leaves are cylindric, clustered at the top of the stems, and are light green to reddish or glaucous, depending on the season.