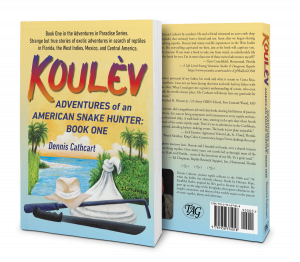 It's out, at last, my first book! Many of my friends, my oldest friends, will not be surprised that I wrote a book about snake hunting adventures. Others however, those that I have met in the past 40+ years in the plant world, might be surprised. They know me from my plant business, Tropiflora, which I started in 1976 and retired from a couple of years ago to write.
If you remember the Cargo Report from the 1990s and 2000s, then you will not be surprised that I am writing about travel adventures. Some of the stories in my new book, Koulèv, you may even recognize. And, if you enjoyed reading the Cargo Report, then I know you will love reading Koulèv.
This is book one of two, the second volume will be out later this year. Each is filled with stories and photos of my adventures and has useful tables with information about nomenclature of the plants and animals mentioned in the text.
The book is now available on Amazon.com, but anyone planning a visit to Tropiflora, or who would like a signed copy, you may contact me at dennis@denniscathcart.com or sales@tropiflora.com. An Ebook version is forthcoming, as well as hard cover copies. You can do me a service by leaving a review on Amazon or Goodreads. I sincerely hope that you will enjoy reading about the early years of my adventurous life, that I have be so blessed to have led—and lived to write about!